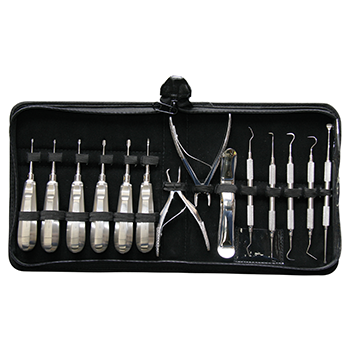 14 Piece Instrument Set - Stubby Handles
iM3 14 Piece Dental Instrument Set with stubby handle winged elevators was designed to take the guesswork out of choosing the correct dental instrument. The complete set includes the instruments to examine, clean and extract teeth in both dogs and cats. Made from high-quality French and Japanese S/S the set is supplied in a zipper case.
Set Includes:
• D1001SH – D1005SH (1-6mm Stubby handle winged elevators)
• D1005S Straight root tip pick
• D1013 Tartar removing forceps
• D1012 Extraction forceps
• D1014 Minnesota retractor
• D1007 Subgingival curette
• D1008 Jaquette scaler
• D1009 Sickle scaler
• D1010 Explorer probe
• D1011 Double ended periosteal elevator 2/4
Im3 micromotor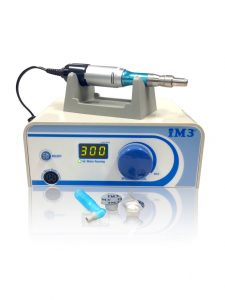 The iM3 PL3 micromotor is a user-friendly and compact system designed for polishing. The PL3 features a built-in digital display for viewing motor rotation speed and offers speed control of 0 - 30,000 RPM. The PL3 comes equipped with Automatic Feedback Control and powerful torque. The PL3 Includes; Micro-motor, iM3 1:1 straight nose cone (L6860), foot pedal and 10 x oscillating disposable prophy angles and paste. iM3 HP Burs and contra attachments are available.
IM3 ANESTHETIC MASKS
Unbreakable, see-through low dead space anesthetic mask 5pc set suitable for Birds, Rodents, Cats & Dogs. Designed in Australia by iM3 with replaceable soft diaphragms.
Rabbit and Rodent 8 piece set in a zipper case
Set Includes
• D1026 – Incisor luxator
• D1027 – Molar luxator
• D1028 – Spatula
• D1029 – Cheek teeth extraction forceps
• D1030 – Cheek dilator (small)
• D1031 – Cheek dilator (large)
• D1032 – Rodent wire mouth gag
• D1033 – Mouth gag
Tabletop mouth gag (TTMG)
The adjustable tabletop mouth gag (TTMG) was designed by iM3 with the help of specialists to hold the anesthetized rabbit, rodent or dog in the best possible position for examination and treatment of the oral cavity without assistance.
Adjustable height stainless steel gags to suit any size rabbit, rodent or small to medium size dogs mouth
Adjustable table height ensures the best viewing angle of the oral cavity
Washable silicon pad under the patient reduces heat loss and is easily removed for cleaning
The complete TTMG is easy to clean and autoclavable
Quality components and innovative design for ease of use
Suitable for oral surgery in small to medium dogs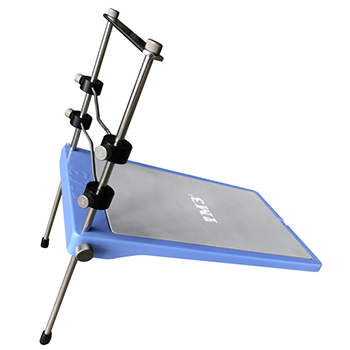 The iM3 elite complete dental veterinary system
Autoclavable / sterile suction
3-way syringe (air, water, and mist)
the low-speed handpiece for polishing
High speed LED handpiece with swivel – providing excellent ergonomics.
The elite dental system features advanced LED light in the high-speed handpiece, automatic handpiece activators, and the only fully autoclavable and sterile air driven dental suction in the industry.
LED Advantage high-speed 360-degree swivel handpiece allows greater control of the handpiece and reduces hand fatigue. The built-in magnetic bur holder prevents burs from falling on the ground. The burs are held in place right where you need them! The two bottle water system with auto pressure release allows the user to choose between CLS (iM3's Chlorhexidine based solution) and water, depending on the procedure and the handpiece is used. All iM3 machines are fitted with a low-speed motor and swivel 4:1 straight nose cone (SNC) for polishing. An array of low-speed attachments for rabbit dentistry, orthopedics, and restorative dentistry are also available.
The elite, with its built-in IEC powerboard and a coolant outlet, allows for the easy integration of an ultrasonic scaler. The iM3 42-12 ultrasonic scaler, or any brand of the scaler, can be connected to the water and power supply of an iM3 dental machine. The dental machine is self-contained and only one power cord is required to power the machine and ultrasonic scaler.
The dental machine chassis is made from aluminum with hospital grade powder coating. The machine control box and components are covered by a full 5-year warranty.
U3500 - Elite LED with "Silent" Compressor, mobile height-adjustable floor stand, iM3 handpieces: LED HS with swivel, LS Motor & 4:1 Straight Nose Cone, and autoclavable/sterile suction.
The elite can be supplied with a height adjustable (50cm), long reach (150cm), pneumatic wall arm. The arm allows the machine to be stored against the wall and extended to the end of the wettable for use.
The airline and electricity for the dental machine are contained in the arm, removing unnecessary cables from the ground.